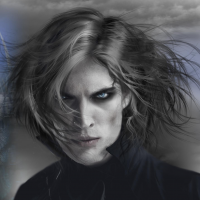 Devyn Quinn
Paranormal Romance, Erotic Romance, Dark Romance & Erotica
Devyn Quinn lives in the middle nowhere New Mexico. It is so tiny and boring that the only thing enchanting about it is waving goodbye as you leave. Seriously. It's small. And boring!

To alleviate her boredom and keep from going on a wild shooting spree, Devyn collects and rides motorcycles. She is the proud owner of a Harley, a Honda and a Classic 2001 Ninja ZX-12R–which makes her the fastest, most dangerous writer on the road. Really. Devyn likes to go fast. Light speed fast. She will probably die in a massive fiery crash, but thinks she will enjoy herself before that final "oh, sh*t!" moment hits. At least she has enough toys to play with.
Recommended Featured Books
"Without knowledge action is useless and knowledge without action is futile."